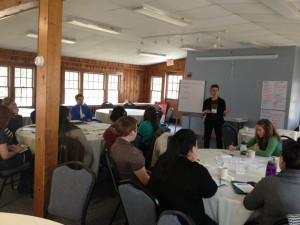 A huge THANK YOU to everyone who made the 2016 conference a huge success.  This year was our biggest conference yet, with 100 attendees, 12 programs, our Youth Advocating Change award, and a keynote speaker.
Click here for a link to our facebook page, and pictures from the 2016 conference
Please join us for our 2017 conference, which will be held March 25, 2017, once again at:
Edwards House
1 Badger Road
Framingham, MA 01701
click here for directions and a map
Here is the listing of workshops from the 2016 conference.
---
Hormones and the Brain – Investigating the Biology of Gender Identity with Elizabeth Boskey
By the end of this program, participants will be able to describe three conditions that demonstrate a role of prenatal hormone exposure in brain formation, Explain how gendered expectations influenced by parental behavior, Understand how children process gender at different ages.
"Storytelling for Good with Emily Nagoski
This presentation will begin with a brief overview of the neuroscience of story – what is it about story that makes it the most efficient and effective way to engage students and communicate information in a way that is memorable and persuasive? Next, I will use several examples of commercials and PSAs, as well as stories from Come As You Are, to illustrate the basic four-act structure of a compelling narrative. Then participants will craft their own stories, using the principles of narrative structure, to teach a lesson about sexual health. By the end of the presentation, participants will be able to construct narratives that will help them teach, and to DECONSTRUCT narratives with their students, in order to unmask the ways that media messages attempt to manipulate us through story.
"FC2: Condom Magic! with Jennifer Lettsome
This will be an hour long educational, and skill sharing workshop where participants will be able to learn about the internal or FC2 condom, how to educate participants about the condom, and pleasure points about the condom. Participants will leave with a small safer sex educator kit at the end of the workshop.
"Changing the Channel on HIV: Awareness, Entertainment, and Empowerment with Christian Kiley
Short screenings of two film pieces (total runtime 27 minutes) accompanied by a short lecture about representation of people living with HIV in mainstream media narratives. Q&A to follow.
Dating and Disclosure: What are we Working With? with Kira Manser
Most school-based sex education takes a primary prevention framework. A more realistic approach assumes that even highly responsible and educated people, if they are sexually active, will at some point in their lives test positive for…something! This session will examine why it is important to provide education aimed at preventing secondary transmission. Let's change the conversation from seeing transmission as a failure. Instead, it's an opportunity to make another sexual health decision! Let's fight shame and stigma, help provide young people with pragmatic communication tools, and improve community health all at the same time!
"Because it FEELS Good: Including Pleasure in Sexuality Education" with Erin Basler-Francis and Melanie Lucash
Sex Educators are experts in teaching anatomy, puberty, safer sex methods, and fielding awkward questions from their students, but often we don't know how to incorporate the reason many people engage in sexual behaviors–because it FEELS GOOD! Melanie and Erin will explain the importance of including pleasure in your Sex Ed practices and some strategies to incorporate the conversation into the lesson plans you already use!
"Teaching a Porn Literacy Curriculum" with Jess Alder
An interactive and informational presentation that showcases how the Boston Public Health Commission in conjunction with Boston University is engaging young people to become critical consumers of pornography.
"ask. listen. respect. #consent – a fun activity for teaching consent." with Duane DeFour
One of the mistakes we make when doing consent education is encouraging people to talk and ask for consent without giving the opportunity for cognitive rehearsal (aka practice). This session will highlight one way this can be done; via a fun group activity in which participants get to practice discussing consent in their own words. Additionally, we'll spend some time exploring other easy ways to cover consent in the classroom.
"Sex Education and the Law" with Brian Flaherty
If the age of consent is 16, does that mean that two 15 year olds having consensual sex are each victims of statutory rape by the other? And if you are a mandated reporter, do you have to report this sexual activity to anyone? Are students regularly being convicted of child pornography for "sexting"? If a person who knows they have an STI has unprotected sex with someone, are they committing a crime? And what are the legal requirements around sex education? Do I have to teach about condoms? HIV? Do I have to be accurate? Or can I just make it up as I go along? This workshop will help you understand the intersection of sex, sex education, and law, giving you information to help you navigate this sometimes tricky boundary. It will also cover ways to effectively and appropriately respond to those sex-law questions your students are asking.
Preemptive Radical Inclusion: Everyone is Always In The Classroom with Cindy Beal
When sex educators intentionally teach from the assumption that we don't teach rooms of people with single identities, but that all the people/all the identities are always "in the room," we change the understanding and impact of our work. Not about bringing people into our pre-defined circle, Preemptive Radical Inclusion is about changing the circle itself.
Decisions…Decisions with Julie Williams
This presentation takes the participants through a lesson for high school students about decision-making, especially around sexual decision-making. The lessons utilizes the DOGMA decision-making model and is aligned to National Sexuality Education Standards.
"Decisions Decisions" is a high school lesson from Rights, Respect, Responsibility: A K-12 Curriculum from Advocates for Youth
If you have any questions, please email us at:
Wanna Go Out? Check: O Yes O No O Maybe with Kim Comatas and Charlotte Boyd
Who teaches you how to ask someone for a date, how to refuse a date, how to process those feelings if you are the recipient of the FRIEND ZONE?
Using this fun, interactive lesson plan, we will explore all of this.
Keeping in mind all the feels that go along with dating.
Teacher tested. Student approved.
"Let's Talk About Safe(r) Sex" with Dinah Super
Sex and sexual exploration is a normal part of adolescent and young adults lives. We will talk about how to encourage safer sex and avoid the fear and shame that is often associated with sex in our society.
Additionally- get all the latest info about STI risks, prevention, transmission, testing and treatment from a Fenway health center Nurse. Bring your questions.
"Opening Your Education: More than just monogamy" with Joey Gattuso
Explore sex education that is inclusive of a broad range of relationship structures, including polyamory, non-monogamy, and open relationships. It will include an overview and terminology, testimonials and practical applications to better validate non-monogamous relationships.
"Sex Positive Zine Making Workshop" with Nicole Mazzeo
Do you want to get your sex positive message to the world? Do you frown upon the mainstream media's representation of sexuality? You can create your own alternative media that is empowering to the people who read it! This is a hands-on workshop where you will learn how to use the zine (booklet) as a way to convey your sex positive message/information.
To get some context, we will take a brief look at the role zines have played in activism over the years, as well as in the present day. Then you will learn how to fold one sheet of paper into an eight page zine that is easy to make copies of for distribution.
"Birds and Bees: Making Sex Ed Relevant for People on the Autism Spectrum with Megara Bell"
Lack of access to sexuality info puts all young people at risk, but even more so for people with AS. How can appropriate Sex and Relationships Education (SRE) be most effective? SRE is important for all ages but is often vague, usually too little too late, and sometimes erroneously assumes a universal value system. Discuss activities, strategies and priorities for making Sex and Relationships Education more relevant to diverse learners